Overview
AOC provides you products which are value for the money you shell out. On purchasing this monitor you will also receive an excellent warranty cover from AOC. You can avail for many manufacturing defects that you may face while using the monitor within the 3-year warranty period. The AOC LCD E970SWNL 46.99 cm MONITOR has a unique picture quality and sound effects so that you can reap all kinds of benefits: watching movies, playing games or any other personal or official purposes. The monitor has a very thin bezel and a brilliant HD screen with LED backlight.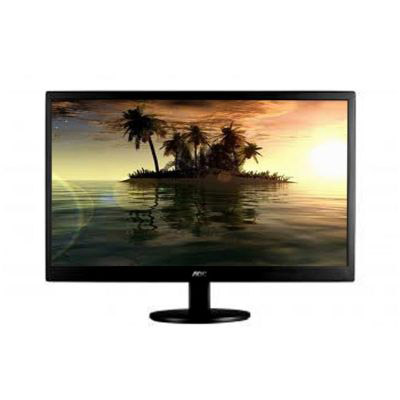 Display Screen
The display screen of the AOC monitor is 46.99 cm wide. The number of colours in the monitor are 16.7 mn colours. It has a 1366 x 768 native resolution. It keeps your picture quality intact even when you zoom it to a great extent. The display and backlight are of LED type. The response time of display is 5 minutes. The vertical viewing angle is 50 degrees and the horizontal viewing angle is 90 degrees. Both are 2-Dimensional. The refresh rate of the display screen is 60 Hz. The AOC LCD E970SWNL 46.99 cm MONITOR has an aspect ratio of 16:9. The bezel, which is grooved with gloomy black colour, is very thin thus, increasing the display area in size. The monitor has been manufactured with an FRC 8-bit panel which makes it unique and different from a regular 6-bit panel monitor that is available in the market.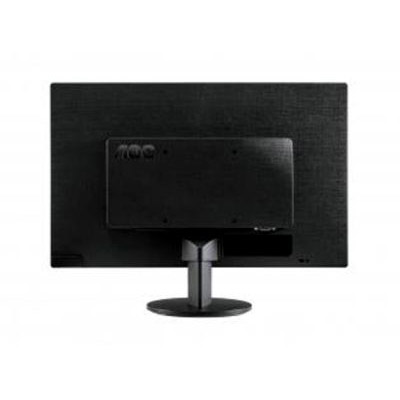 HD/Full HD
This LED screen monitor display full HD quality images to enrich your luxury time with your personal computer. The AOC LCD E970SWNL 46.99 cm MONITOR has multi-faceted purposes and the HD screen just serves it right!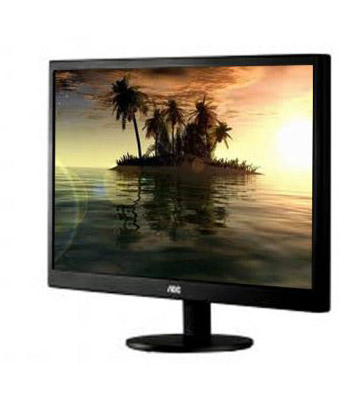 Power Details
The monitor has a very low power consumption of 8 Watts. This monitor also runs on Eco Mode. This aids the monitor in consuming less power thus saves a major proportion of your electricity bills. The AOC LCD E970SWNL 46.99 cm MONITOR consumes only half of its supposed power consumption when it runs in an OSD cum text mode.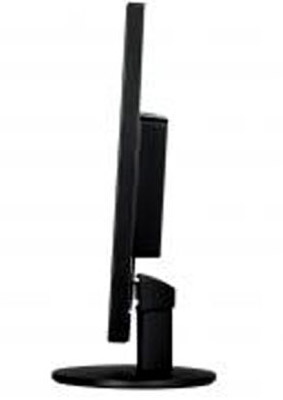 Other Features
The AOC LCD E970SWNL 46.99 cm MONITOR is compatible with Windows 8. It has the plug and play feature. The monitor is not provided with built in speakers. The monitor is black in colour (except the screen). It reduces the need for cleaning it on a regular basis. It remains glossy and stylish for a long period of time. This brilliant monitor has been manufactured with a Dynamic Cost Ratio of 2 million to 1. The glossy black monitor has a strong and sturdy stand with a wide support base to keep it firm in its position. This eco-friendly monitor has also been provided with a hotkey that lets you change the screen display mode according to the activity being carried out on the monitor: gaming, movies, reading, sport and internet. The responsive LED backlight ensures a faster start-up time.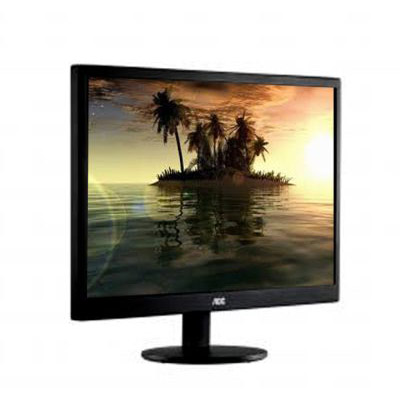 Connectivity Ports
The full HD screen monitor has one port to connect the VGA cable cord. The input connector is a 15-pin D-sub